Life is a journey, enjoy the ride. This ride has ended and gosh have we enjoyed it!
We have to be in Calais tomorrow night, our ferry departs to the UK the next day at 11.00am. We could have gone to Calais more directly through France, but we have decided to drive through Luxembourg and Belgium instead, to tick off two more countries.
Luxembourg is a small country, only 100 kms separate North from South, it can be crossed in less than two hours (well perhaps three with Dora).
We enter the country from the southeast and stop briefly in Diekirch, where we visit the Musee National d'Histoire Militaire. We thought it'd be nice to do a bit of culture on our way back.
Luxembourg has the features of a small state; tranquil, spotless, under populated, wealthy…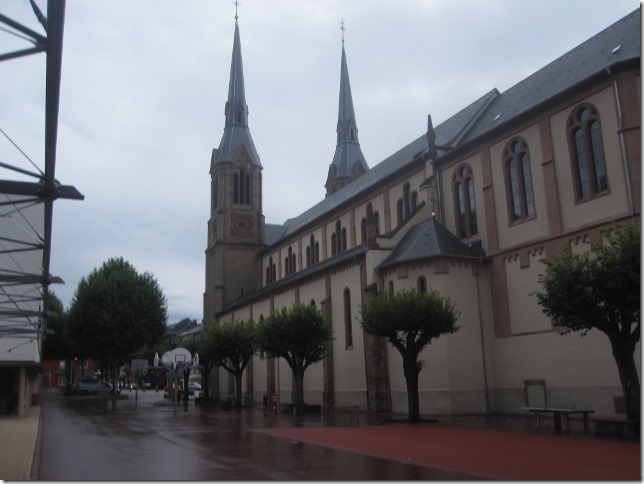 Countries like Luxembourg are artificial and dreamlike but life is not like that. Life is about poverty as well as healthiness, about ugliness as well as beauty, about suffering as well as happiness, about flaws as well as perfection and about confusion as well as clarity.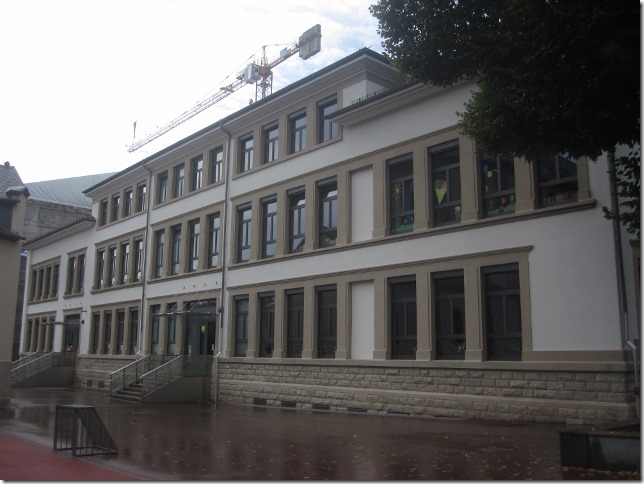 Luxembourg reminds us of Lichtenstein. They are just places for the super-wealthy to live in, to pay low taxes (or none). No other major industries have been developed to support this country, they are not needed. A very unjust economic model, which I certainly don't agree with.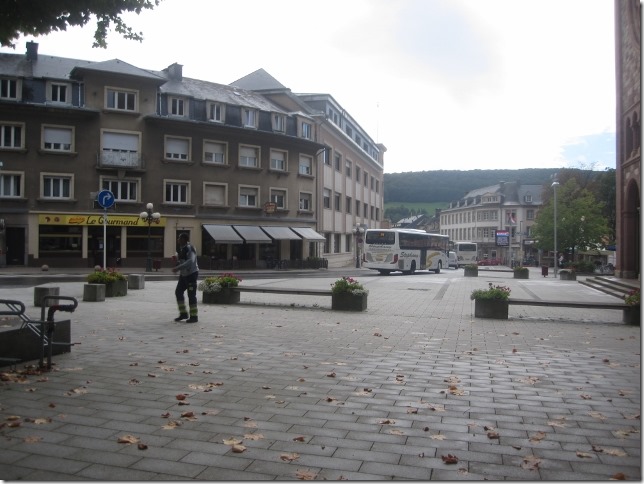 The military museum is not very popular; only another couple is around. It is fascinating though. 3000 square metres of exhibition space and numerous dioramas portray the dramatic and tragic situation of the soldiers they fought in the WWII.
All sorts of materials: uniforms, weapons, military equipment, soldiers' belongings, maps, photographs…The amount of war material is overwhelming. The magnitude of this museum indicates that this was a significant and dramatic event of their history. Luxembourg was a small country; it was an easy target, being the middle of Europe; it lacked a sophisticated army, hence the need for the allies to step in.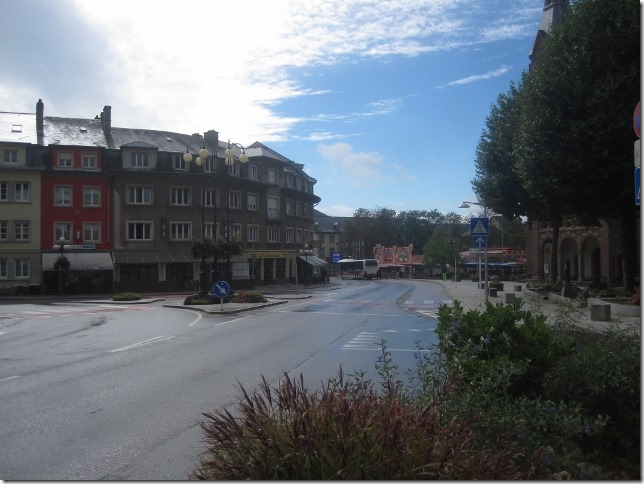 The museum was a good break from our long drive to Calais. We could do something similar tomorrow if we do well with time.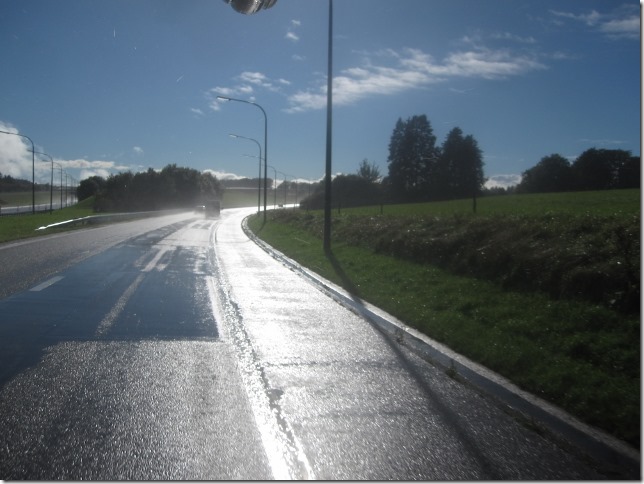 The weather is not much better than in Germany. It rains, even with no clouds in the sky. We didn't appreciate the rainbow behind us when we took this photo, we were quite surprised that our camera did.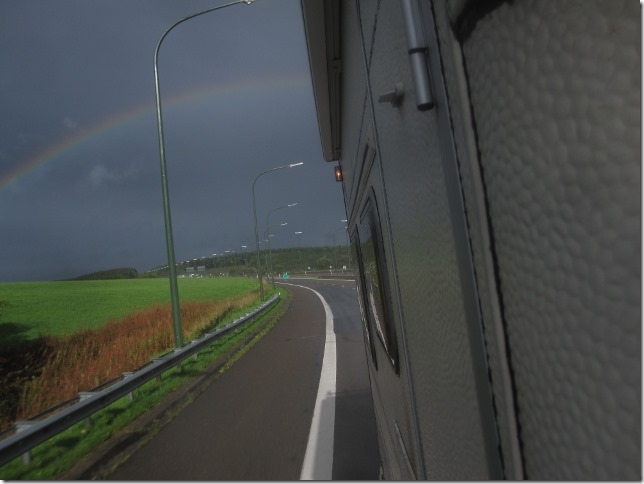 We soon leave Luxembourg to drive for an hour through Belgium. We almost forget to take any photos. Here it is the only one.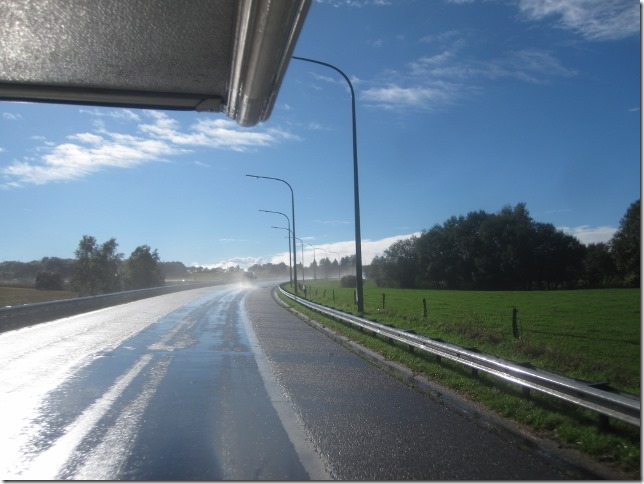 An hour later, we cross the border, we are now in France.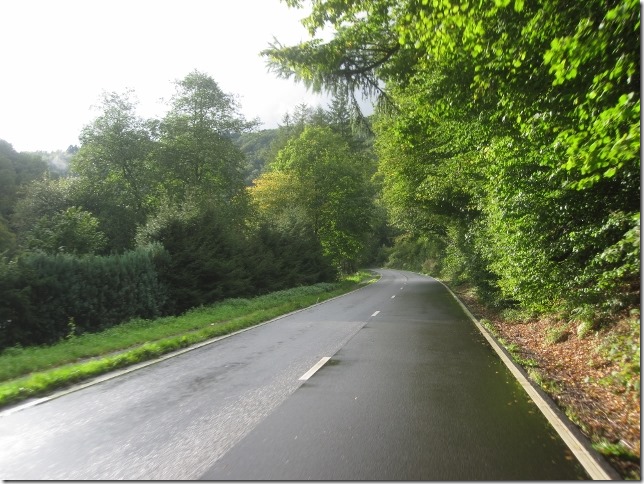 We drive towards Montherme, where there is an aire with electricity, although our book doesn't describe what the deal is. When we get there, we find out that electricity could only be available by buying tokens in the Town hall. It is 19.00, the chances that this place will be open is minimal.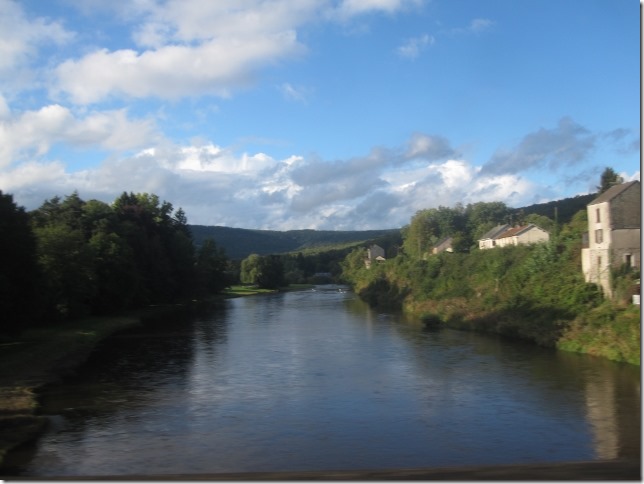 So we move on to the aire in Bogny, a village 10 kms south of Montherme. Electricity here costs €1.00 per hour, quite expensive. Moreover, the area designated for motorhomes is full but there is no one in this car park adjacent and it has no signs banning motorhomes. We tempt our luck and sleep here tonight, hoping we won't be disturbed.
As we are setting up Dora for a nights rest a flash of blue darts from the riverbank and crosses the river; a kingfisher. She lands on an adjacent rowing boat, and then crosses back to this side, her red flashes clearly visible. I go to grab the binoculars but am a bit late and do not see her again, but can't believe our luck that we have seen these timid little birds. GDR
We go for a walk around the village to look for a launderette. Why would you need to wash our clothes when we will be at home in two days time?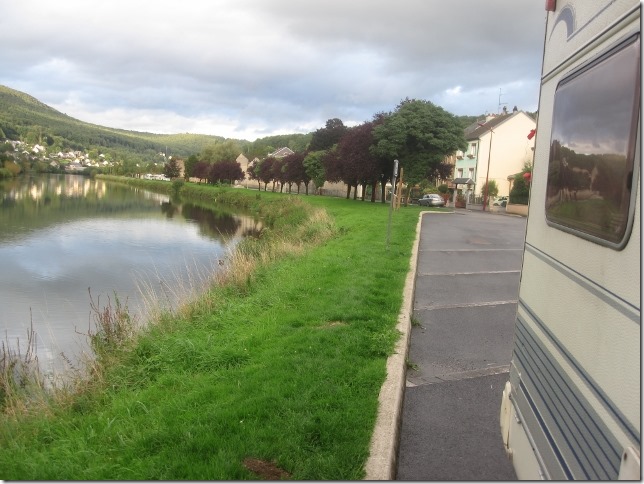 Our house is still rented out, the tenant vacates at the end of October. We will go to live in Spain in the meantime. But before that, we have to MOT and service Dora, empty her, clean her and take her to a car dealer so that they can sell her on our behalf. We still have access to our garage, so we will pack and leave our stuff there. Hence the need for a last minute launderette; clothes need to be washed and dried before being packed. Six days to do all of this is pretty tight but we reckon we could make it to work, as long as there is nothing wrong with Dora.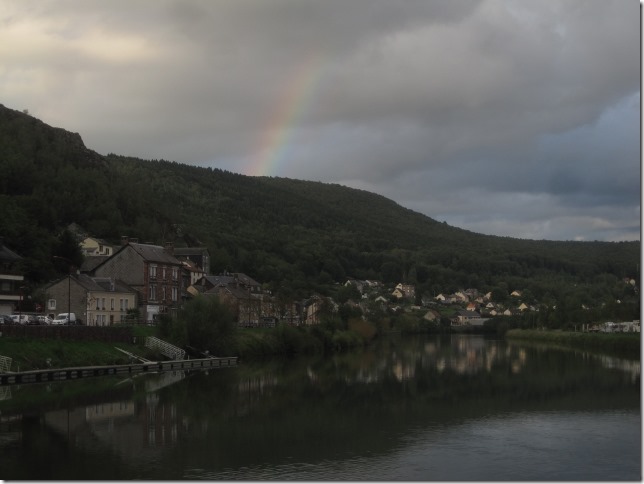 No luck with the laundry in this village. We have all day tomorrow.
SM
22/09/2015
The next day we get up earlier than usual and go.
As we leave another last minute sighting of the kingfisher. Perhaps she lives around her, surprising as it is so close to the village. GDR
We have a 300 kms drive ahead of us. We look for the straightest and quickest route to Calais and avoid those countryside lanes that we like so much. If necessary we will take a toll road, as long as it is not stupidly expensive.
We have gone through a few French towns but have not seen any laundry. We have located one in Cambrai but it is right in the centre, which is not ideal. Having to go across town will take time but we have no choice. It  is now lunchtime and we are still 200kms away from Calais, we need to get the clothes done.
Luckily, we find one in in the suburbs of Cambrai and it is empty. We pull Dora up onto the pavement as other locals are doing. We can keep an eye on her from inside the laverie incase we need to move her. Doing the laundry takes us longer than usual this time. We need to ensure all our clothes are 100% dried, as they will be wrapped up in plastic and sealed in a box for a month.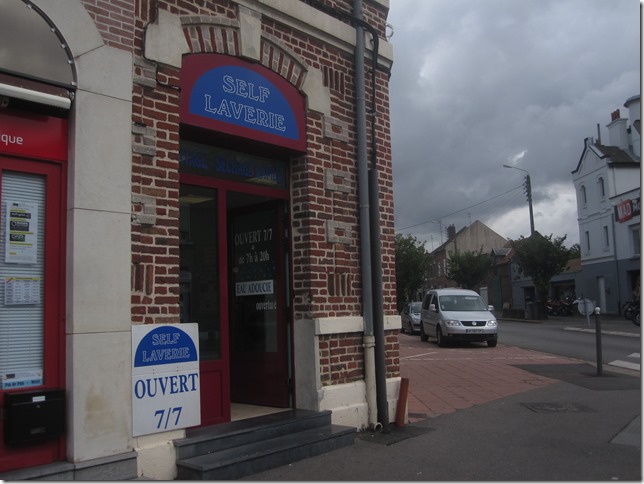 At 15.30 with the clothes finally washed we continue first on the motorway and then on a dual carriage way. At 18.30 we arrive at Oye-Plague, a village 10 minutes away from Calais, where we have decided to spend the night. All aires in Calais are chargeable.
The aire at Oye-Plague is on the beach. The sky is beautiful but it is too cloudy to make out he UK on the horizon, it is a bit late in the day.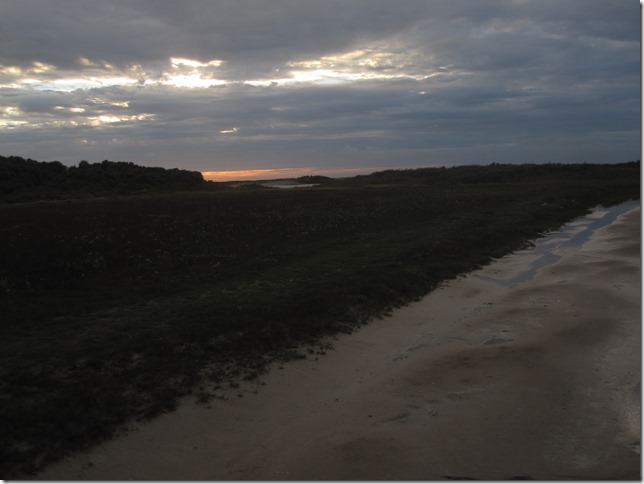 The tide is low but the water is still lingering on the beach in the form of rivers and streams. Although we try hard, we cannot get any closer to the sea. We retreat with sandy and wet feet.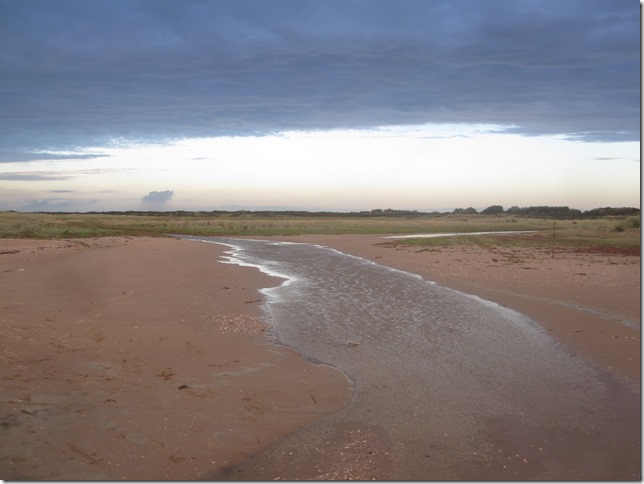 A series of ducks are kept in captivity. Despite the cold and the wind, they look drowsy, some of them sleeping. Are they being studied? Are they ill?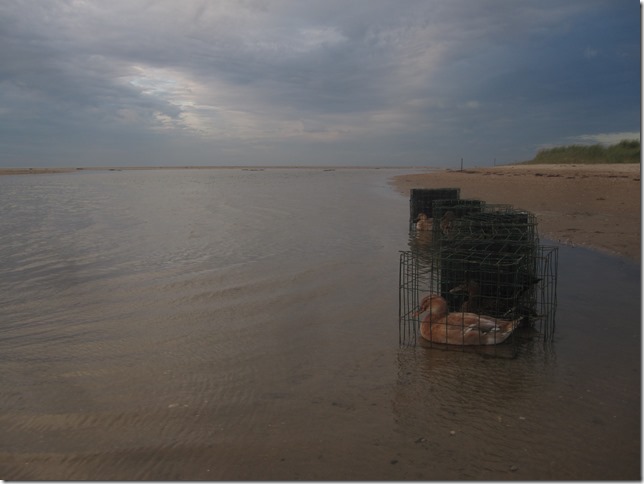 Whatever the reason, I am sure it is a good one, although I cannot avoid feeling sorry for these fellows.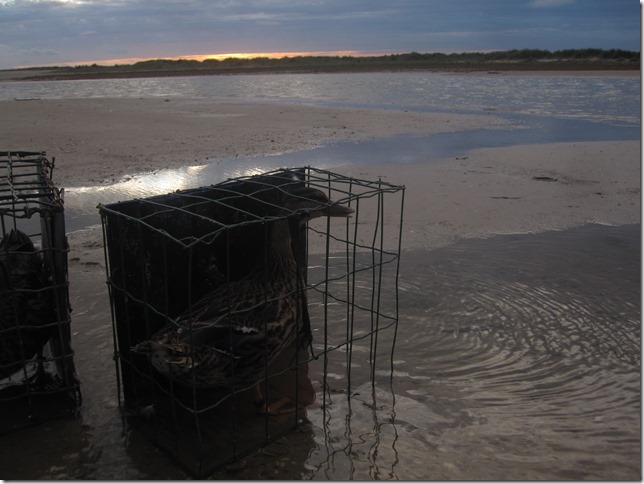 On the way back to Dora, we go through some of the moments of our trip with fondness. We remember so vividly when we crossed over to France from Plymouth, on an overnight ferry. That is when it actually felt our European adventure really started. Dawn was particularly beautiful at 6.00am. I don't normally have breakfast but I was so excitedly hungry, I had a couple of French croissants that morning.
But we are not sad, we are happy and feel so lucky we've had had such an amazing experience together. It is time to turn over the page, a new chapter in our lives begins.
SM
23/09/2015