We fly over to Spain in three days time, at last. But we have a tight deadline to meet before we go.
Dave won't look for any more clutches in the UK and has sent the original back to Italy so that the manufacturer can match it. 'This way, we will 100% they will send the right one' he says on the phone. 'However, It will take a few weeks for it to arrive. You can leave Dora here whilst you are in Spain' Once again, he is being incredibly helpful and fully understanding of our situation. Leaving Dora with him works well for us. Although this means delaying handing her over to the dealer for a month, it doesn't necessarily mean a delay in her sale; Dave also knows motorhome dealers, there may be a chance someone expresses interest in Dora whilst she is in his hands.
The plan now is to clean Dora thoroughly over the next couple of days, so she is ready for a viewing if someone is interested. The time scale is quite tight but we will sleep in her tonight so we can make a long day on Tuesday. We have also access to electricity and water, once again, provided by Dave. It will be hard but it will be done.
Linda kindly drops us at Tonbridge to pick up our courtesy car. At 10.00am, we are already at Sittingbourne.
'I can only apologise for what happened on Saturday' says Dave with sorrow.
Not at all. It is us who have to thank you for all your help; for your dedication to Dora to get her up and running to meet our tight deadline, for your hospitality, for continuing keeping an eye on us to make sure we had everything we needed…
So we drive Dora to his garden and start the cleaning. We divide the task: Gary will clean the outside of the van, I will do the inside.
Luckily, I have already thoroughly cleaned the habitation area last Friday, so a quick wipe out will do.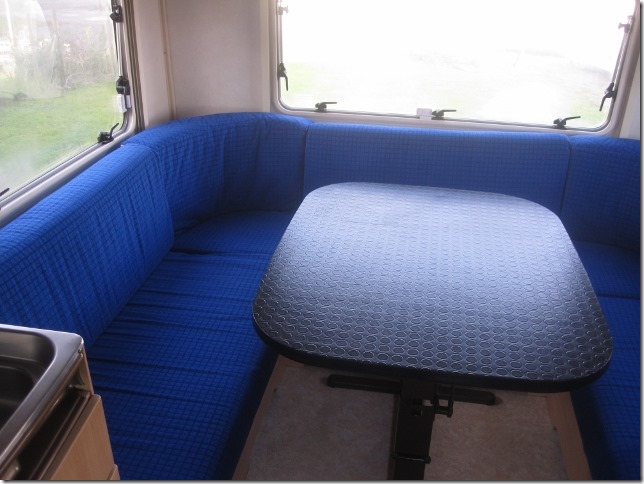 The next big section; the kitchen hob, fridge and storage area underneath the sink.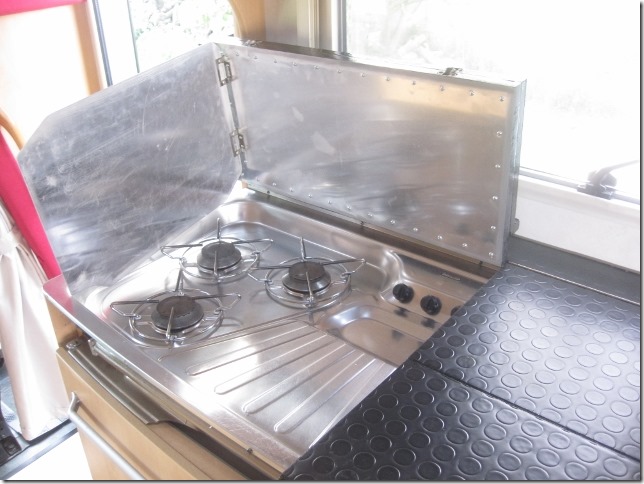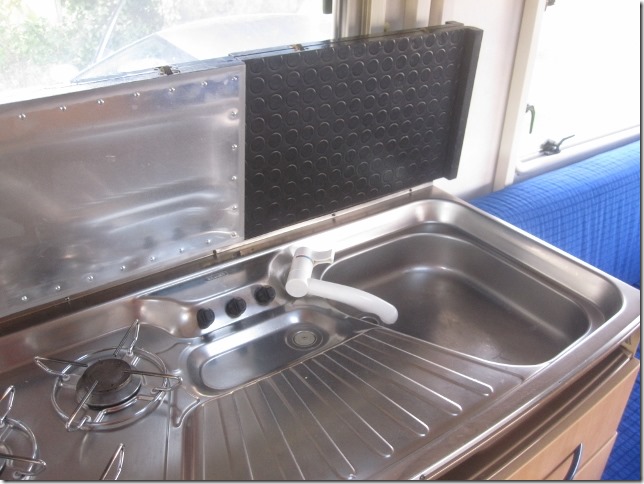 which surprisingly takes me until 18.30. Time to stop, I can't see any longer, the bathroom will have to wait until tomorrow.
We are pretty knackered. For dinner, we finish off the couscous, pour the last jar of tomato sauce and mix it with the last can of tuna fish. Slightly odd dish, but it will do us.
It is all a bit weird inside Dora this evening; it feels cold and empty, it doesn't feel like home anymore. Usually, we would be written posts like mad on our computers, specially with unlimited access to electricity. But we feel really apathetic tonight, perhaps because we are tired, perhaps because we are sad; it is the last night we will sleep in Dora.
SM
28/09/2015
7.00am, the sun is up and so we are. Quick coffee on the fly, whilst we finish off wrapping the crockery and cutlery.
Full of energy and stress, I get on with the bathroom straightaway: heat the water; take the cupboard doors out, clean them outside and leave them to dry; go back inside to clean the cubicle from top to bottom. I have cleaned the bathroom many times during this year, but never as thoroughly, so I now appreciate what it takes, how many tiny little corners the van has.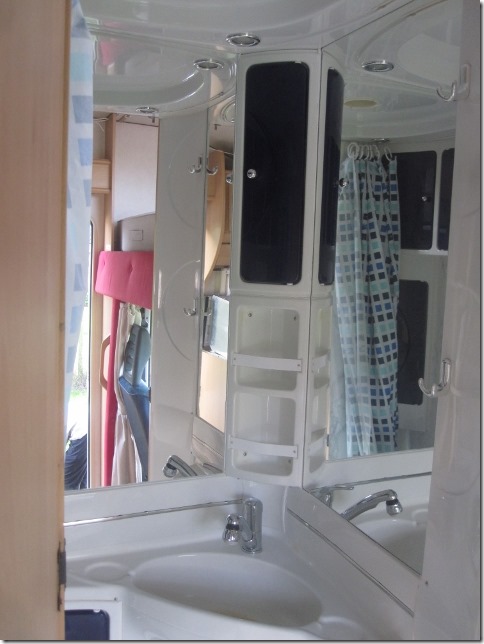 We stop for lunch at 13.00 and review how each other are doing. Gary is doing well with cleaning Dora's body. I still have to go through the cabin, the habitation door and do the last wipe down of all the walls and ceiling in the habitation area. I won't be very thorough with the cabin, as these guys are going to be working in it over the next few weeks I say to Gary.
We aim to finishing by 17.00. We still have to stop at Ebbsfleet to drop a few more boxes in the garage and go to the supermarket; we promised Gary's parents to cook for them tonight.
17.00 and we are done. This is the  time we thought it was never going to come; this is the time to say good-bye to Dora . We may see her again, we may not. We've spent thirteen months of our lives in this van; how many adventures we've had with her, how many places she's allowed us to see, how happy she's made us feel and how many stressful moments we've gone through. Thirteen months is a long time. Inevitably, when she goes, part of us will go with her.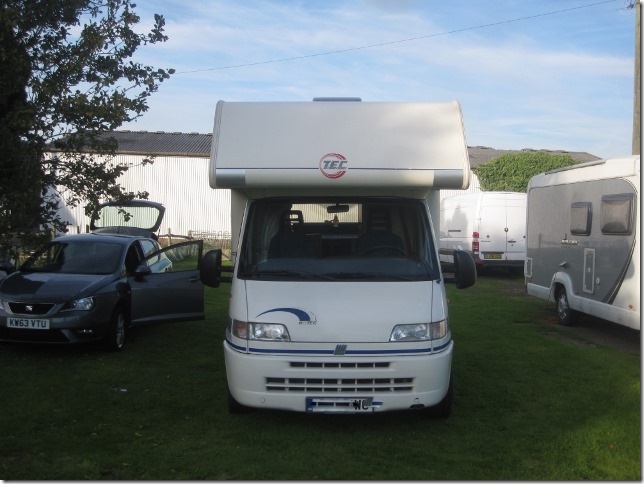 Good-bye Dora, thank you.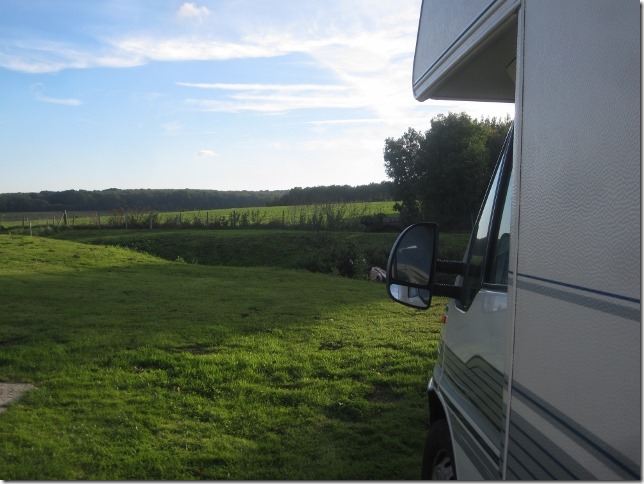 Once again, we keep quiet all the way back, we briefly stop at Ebbsfleet and confirm with the tenant they are leaving on the 27th of October. We stop at our local Sainsbury's to get the ingredients for the mushroom risotto and the fish pie. Salmon is on offer but we also need a white fish. Cod is not an option, it is too expensive and haddock is not available. Hang on, what is this? Smoked cobbler, at £7.49 per kilo, good, and we've never tried it before, even better. Let's not forget the wine.
I was so tired I didn't think I could go through tonight but I start to relax preparing dinner and chatting with Linda and Mo over a glass of wine. Gary drives the cooking, I just help. I think everybody seems to enjoy dinner, specially risotto, which they've never tried before. Gary is pleased, mushroom risotto is his speciality and he loves making it.
SM
29/09/2015
Our flight is at 16.00. We need to catch the train from Tonbridge at 13.00. Linda and Mo drop us at the station, they want to see us off.
We pick up a few bits for lunch at the Lidl next door and go. Waiting time for the train is only 15 mins.
It is the first time we fly after our travels. Last time, we also flew to Spain, in July 2014, to say good-bye to my family. Gatwick has changed since. They have opened more shops, the airport starts to look more and more like a shopping centre.
The hustle and bustle is so different from our usual travels this year, it is quite stressful, but soon that air travel feeling comes back to us.
The shopping centre is so well planned to extract the maximum amount of cash from the wallets of the unwary. When going on holiday our guard is down, we spend money like water, not thinking about value for money. GDR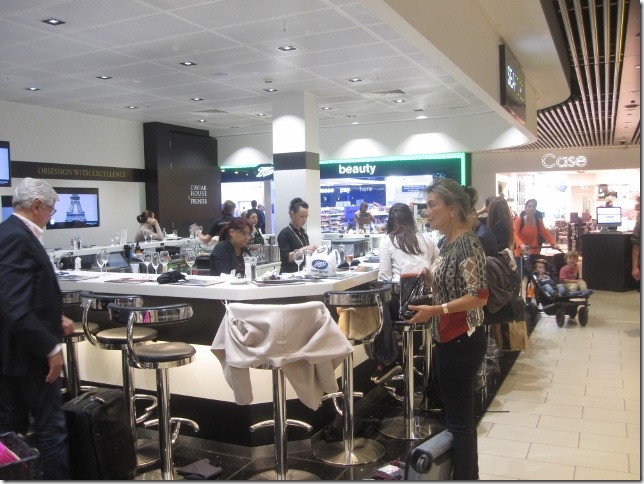 Usual gate number 14, is now open.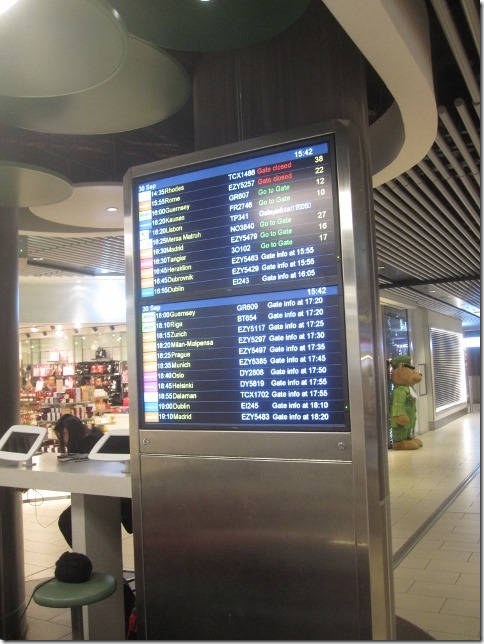 A long way, 20 minutes from the shopping area.
Passengers are rushing, overtaking, not sure why, there is a seat for everyone, you will have to queue anyway, what's the rush? I love travelling by plane, but I detest airports, these ubiquitous, could be anywhere in the world places, revolving around shopping, eating and waiting. Whatever happened to that joy around air travel, it is all now lost, now it is has the elegance of taking the bus. GDR
The plane is full, but no one sits next to us. Should we take this personally? Have they heard about the 2wanderers?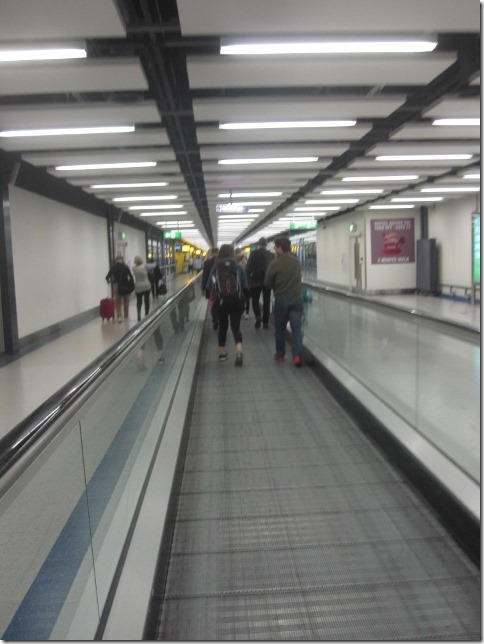 Flying is so beautiful.
We pass over many places that we have travelled past during the year. Down there is Hayling island, our first night of our travels, our first night in Dora.
We pass over Jersey, we went there for a weekend a few weeks before embarking on this journey, We pass over Brittany and down the bay of Biscay. We spent several really amazing weeks in France, it was a real surprise to both of us how much we enjoyed it. GDR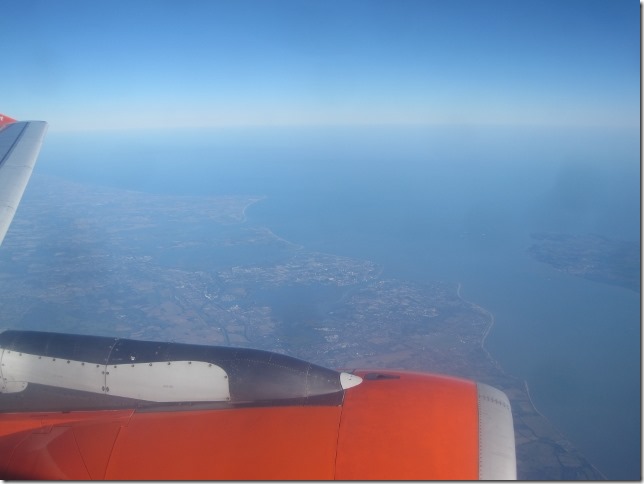 Especially at sunset.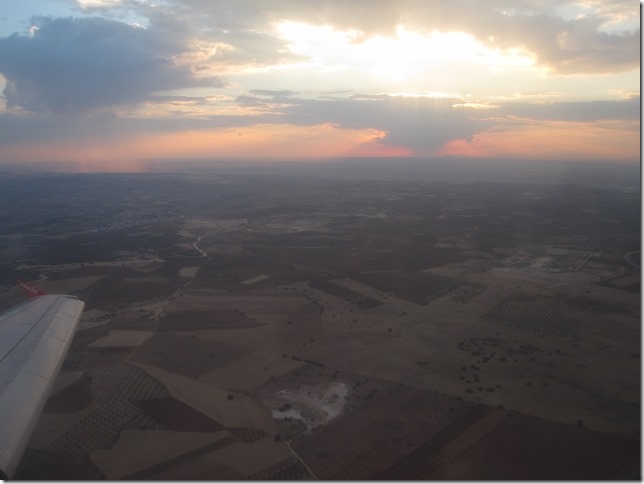 How many sunsets have we enjoyed in Dora.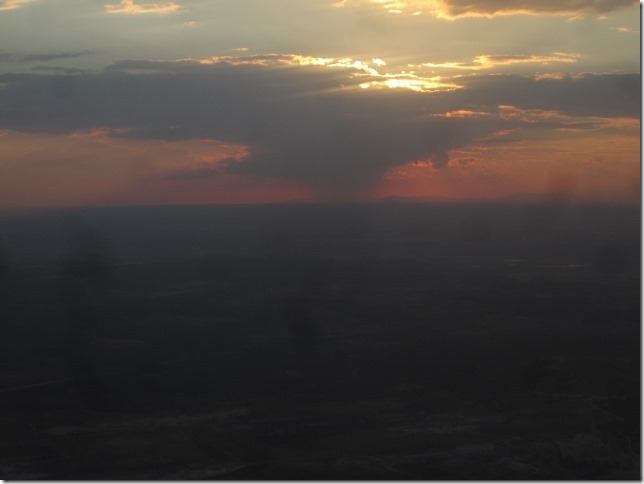 They are now all in the past, lovely memories.
What took several months in Dora, to get to Madrid, takes us just two hours by plane, but how much travel do you miss. GDR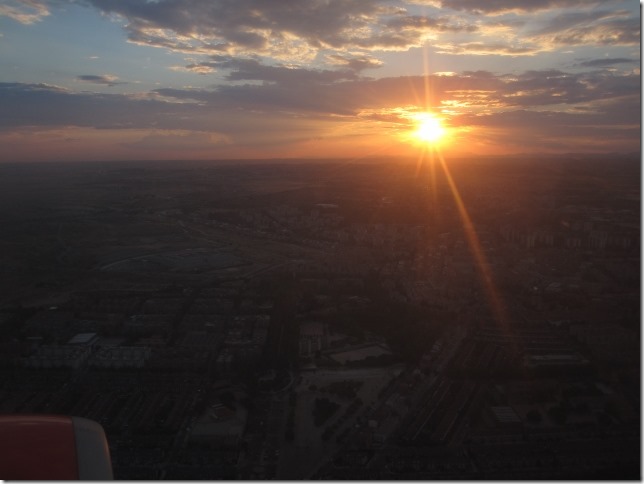 Inevitably, there will be a time when we will put this year behind. How quickly?
Madrid airport is as familiar as Gatwick, it is good to be home. England didn't seem like home, too much to do. It may have been familiar, but the circumstances were abstract. It is good to find some stability. GDR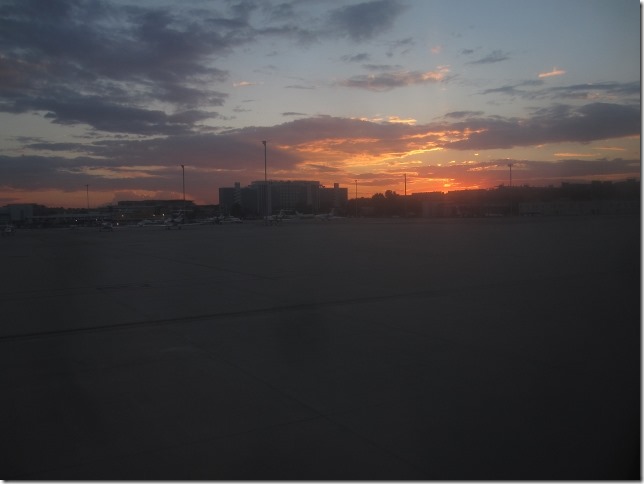 Kindly, my brother has offered to come and pick us up from the airport. When we get to arrivals, my mother is also waiting with him. What is a nice surprise.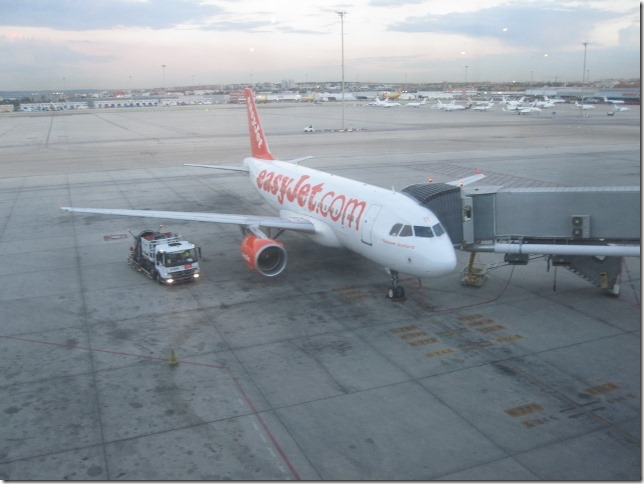 On the way to Talavera, we tell them about our last week's adventures. 'It sounds like you've had more adventures within the last week than you've had over the whole year' my brother jokes.
'What are you planning to do over the next few weeks' my mother asks.
Quite a lot, and I start going through the list.
I think we've already put the year behind.
SM
30/09/2015