Waiting for Dora's new clutch is not yet a problem for us.
Last night we made the most of our waiting time by packing most of the stuff and cleaning the majority of the habitation area. Once the part's fixed this morning, we will drive down to Ebbsfleet, store all our stuff in the garage and drive off to Tunbridge Wells, to see Gary's parents. There are a couple of places around there where we could sleep without disturbing anyone. Over the next four days, we can park Dora in front of Gary's parents house to finish off the cleaning. All being well, we could have Dora ready for the car dealer in five days time, on Tuesday, as Wednesday we are flying back to Spain.
As advised by Dave, we take Dora to the garage at 7.30am.
Dave opens the office for us so that we can use the Wi-Fi. 'Today we have a cake day to collect money for McMillan's charity. My receptionist is organising it. You are more than welcome to join'. That sounds good, a sweet treat in our current disorganized life won't do any harm.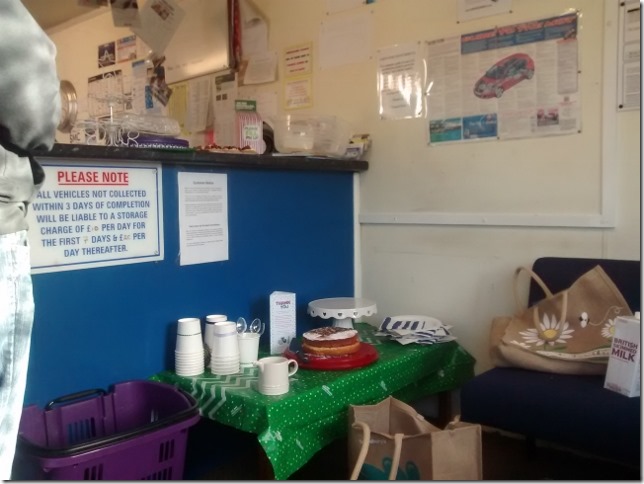 Victoria sponge, chocolate orange, lemon cake…They are all ready for 11.30am. Two hours waiting in front of those yummy case is a long time, we go away from this temptation and have a wander around Stockbury, the nearest village.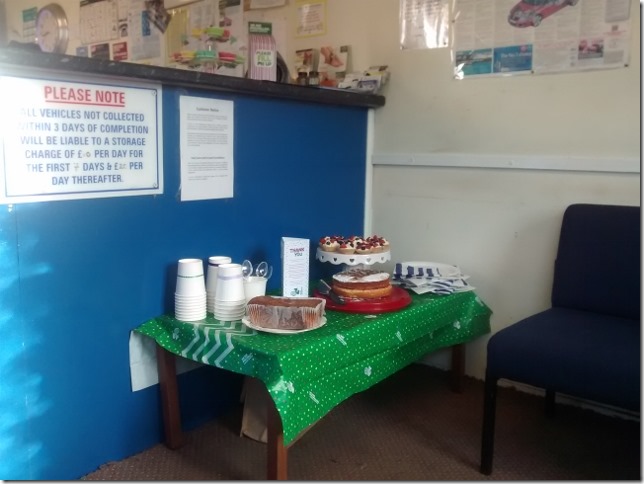 Before we leave, Dave approaches us with joy, 'the new clutch has arrived. We will get on with your motorhome right now so that you can have back it just after lunchtime'. That is very good news.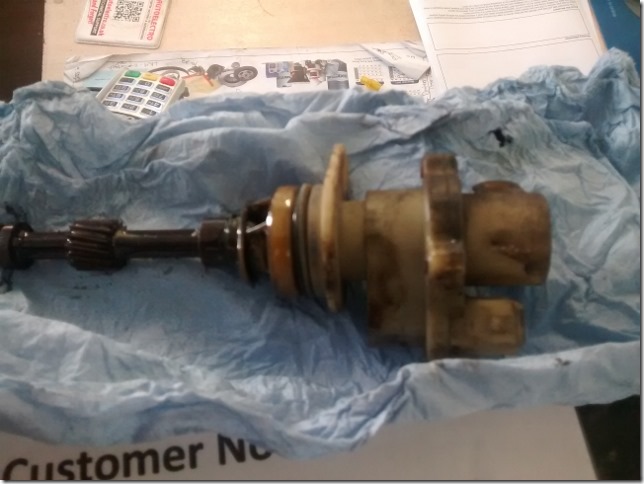 Walking to the centre of the village takes us half an hour. We've been told there is a shop where we can get bits for lunch. The shop is a typical British countryside shop, selling a limited range of products, wrapped in fancy paper to make it to appear they are locally homemade and of course, more expensive. We try our luck in Hartlip, hoping it has small supermarket or corner shop.
Hartlip is a cute little village but doesn't have any shop. Something is going on in the church, there are quite a few people around. The priest invites us in. They have also organized the McMillan's cake, it appears to be a national day. In addition, the priest has just finished a service in honour of a group of soldiers who were killed in the WWI 100 years ago today.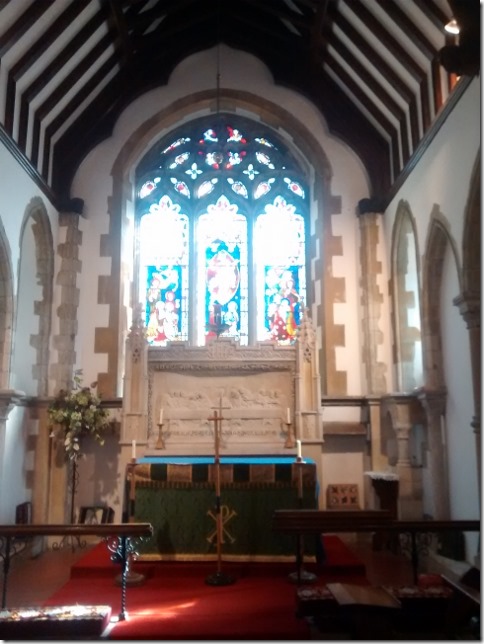 The priest is interested in us: 'are you local?' We explain briefly why we happen to be here. Somehow we end up talking about the migrants we saw in Calais, highlighting the inhuman condition they are suffering. But the priest keeps very quiet, he doesn't express any opinion about the degradation and misery they are being put thought. This surprises us, he would express some sort of concern or empathy, at the end of the day, we are all human in the eyes of god.
He does however talk a lot about community, and the lack of it around Hartlip. Apparently everything was a lot better years ago. Now no one works around here. They all work far away. No one shops around here, they shop in a distant supermarket or online, so there is no need of a local corner shop, or post office. Everything was much better when people worked on the land, in farming. That hard labour was good honest work. The lack of choice at the local shop, the over inflated prices, they were all good things to and the shorter lifespan.
I have never been able to understand why people get so stuck in the past, are so blinkered that they cannot see that some things improve, and other change. Our vicar told us that modern relationships are not as good as old ones. Apparently the Facebook/ twitter/ whatsapp generation have superfluous and meaningless friends. Now some aspects of social media I do not get, but I am sure these relationships are not meaningless to the young generation, they are not worse, they are just different. Just because you don't understand them, doesn't mean they are bad. GDR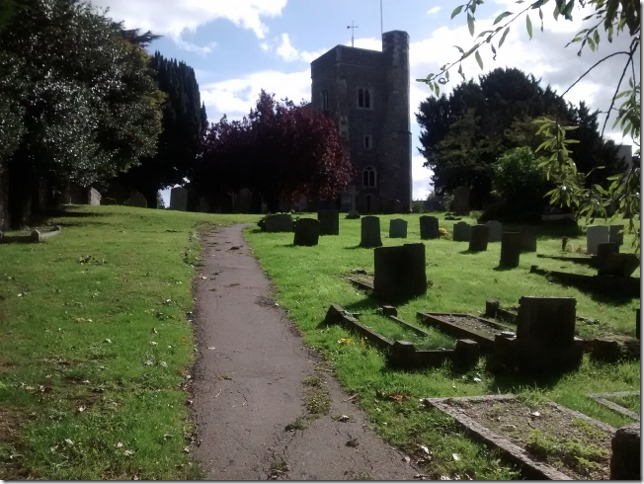 It is unlikely we will find a supermarket around  this area. Our only choice still seems to be Stockbury, so we have to go back to the countryside shop and buy a bit of cheese, ham and manky rolls for €7.50, not precisely our cheapest lunch.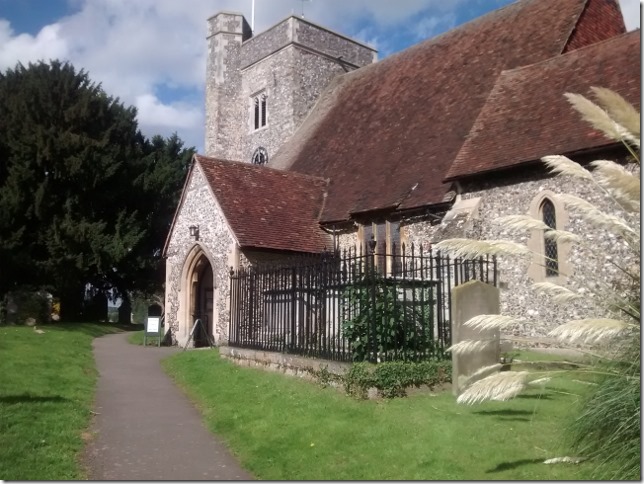 Bad news when we get back to the garage. The manufacturer has sent the wrong clutch and he is currently waiting for the right one. This is getting really frustrating, we have so many things to do and Dora is still up in the air!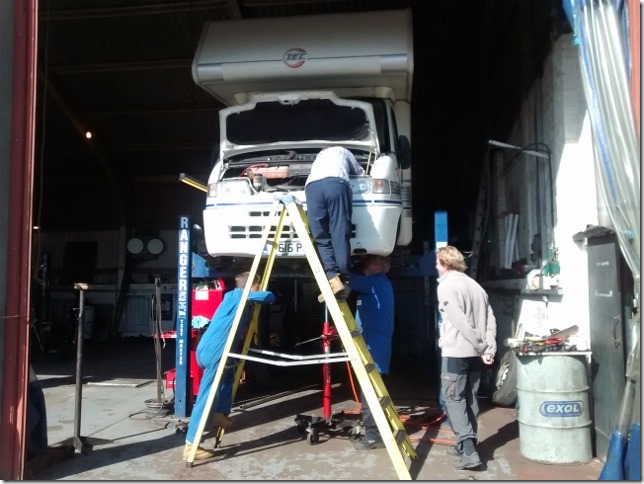 We ask Dave whether it is possible to borrow a car so we can drive to Ebbsfleet as we'd planned. With no hesitation he brings one for us and a ladder, so we can get to Dora and take out all the stuff we packed last night.
And we leave. This is the first time we've driven in a car other than Dora. Gosh, it is low, it feels we are sitting on the road. I cannot stop laughing Gary, how small he looks driving in it.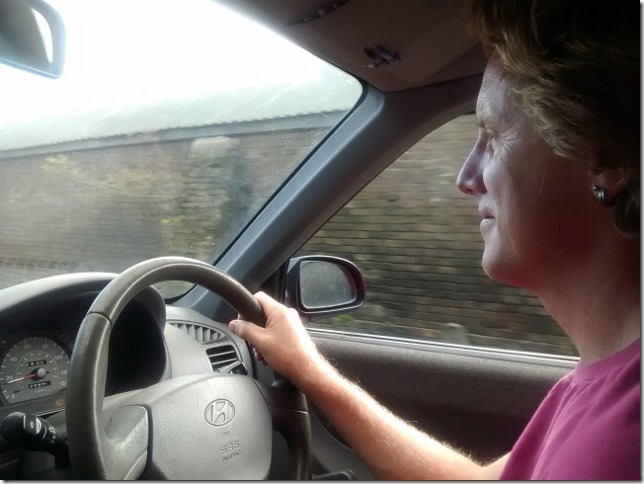 Gary drops me at the surgery to renew my prescriptions and he runs off to the house to start unloading the car. The way back to the house feels so familiar, it seems no time has gone by at all.
I am getting closer to the house but I am not looking forward to seeing it; our nice, beloved house, being now occupied by somebody else.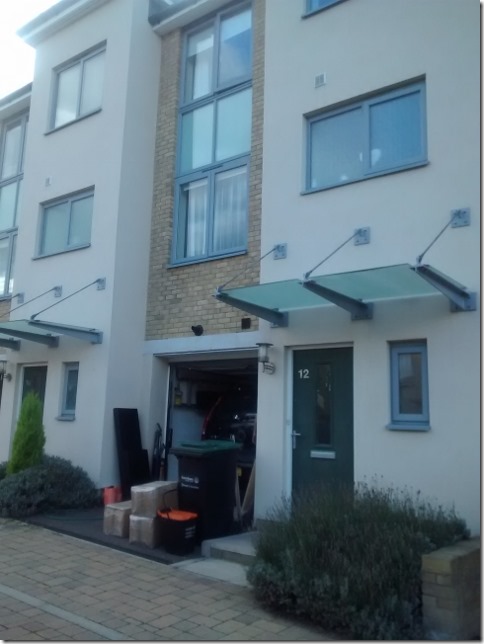 The car, our stuff, everything is in the same place.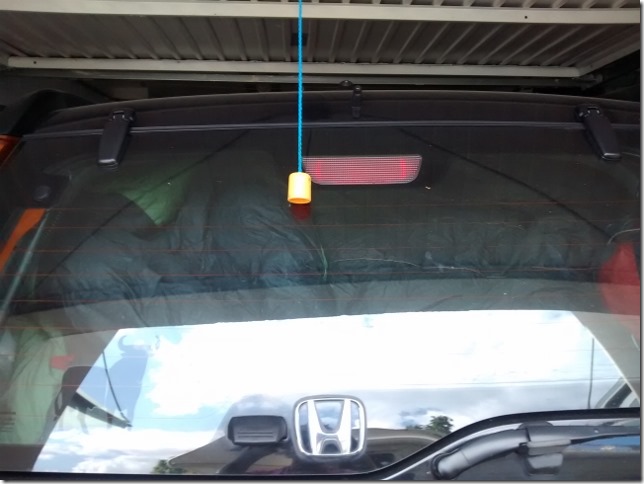 'I met the tenants, they are nice' Gary says. He tells me the trouble he has gone getting the car open.
The problem is put a lot of boxes up against one wall and then parked really close to it. The car is on axle stands and the battery is removed. I had left the bonnet unlatched, but it is no longer like that, someone has pushed it shut. The central locking won't work because there is no battery, the only way is to manually open the door with the key, then I can open the bonnet, put the battery back in and open the other doors and the boot. To open the door I need to move all the boxes, quite difficult as access is so limited. By the time Susana gets back the car is open, but I am exhausted! GDR
We start to empty the car's boot and store the stuff inside the car and around the sides, which only takes half an hour. But here it comes the challenging bit; we need to go through the boxes we packed last year and search for a few things we need to take to Spain with us, such as the hard disk and Dora's documentation for the potential new owner. Surprisingly, we only had to open three boxes before we find everything we need.
That is a real relief, I completely forget where the documentation was even though it was one of the last boxes we packed. GDR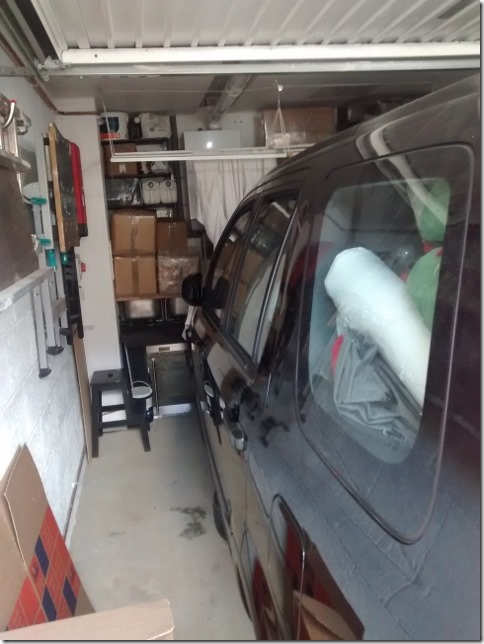 All done in an hour, we will be back with Dora tomorrow to bring the rest of the stuff.
When we turn up, Dave doesn't look happy. The second piece delivered by the supplier is, once again, the wrong one. He has now asked another supplier, but it won't get here until tomorrow. This is starting to become a problem. With Dora ripped apart we have nowhere to sleep and no means of transport to look for one.
Once again, Dave tries to make things easy for us, he now offers his house. 'I am currently refurbishing it, I have three bedrooms but no furniture, if you are happy to sleep on the floor…' Perfect! We have not yet stored our sleeping bags and mats, we will be okay on Dave's floor.
Our dinner is in Dora. Dora is not accessible, so we will have to eat out. Dave suggests we join him and his partner for an Indian take out. We thank them but we like the idea of going out to a British pub; 'would you like to come?' He is quite tired trying to get Dora fixed for us today and they would rather stay in. We don't, however, turn a glass of wine down. I think we all need one.
SM
25/09/2015
Dave has already gone to work when we get up, not without leaving a note in the kitchen saying where coffee and milk are.
Good news when we arrive at the garage, the clutch has arrived, Dora will be ready by lunchtime. But Dave is still not happy, although it fits, it is not exactly the same as the one that it replaces. He puts it in anyway. But when he tests it, under acceleration the clutch is slipping. Dave tells us their is still something not quite right with the pressure plate.
He thinks it is OK to drive as long as we don't accelerate too quickly, their is not much chance of that in a motorhome! So we have to amend our plans. We will bring Dora back on Wednesday morning, leave Dora with the garage while we are in Spain, this will take the pressure off of everyone and just means we will have to delay selling Dora for a month. By taking her to Tunbridge wells we will still have the opportunity to give her a good clean, another job ticked off the list.
It is Saturday, so, as we originally planned, we drive to Tunbridge Wells to finally say hello to Gary's parents.
I i drive off of the A21, fifteen minutes before we arrive at Tunbridge Wells, however…'where the hell is the clutch??' The clutch has dropped, I cannot change gear. Dora looses speed and finally stops, on the slip road just after a sharp bend. Cars awkwardly go around us, tooting, hard-staring at us. We immediately contact the insurance so that they arrange for the AA to come and pick up us.
As advised by the insurance, we leave Dora, get somewhere safe and wave to the traffic before the police arrives and secures the area. Twenty minutes later the AA arrives: 'you are so fortunate, says the police officer, 'they are not normally that quick'. Are we really?
Whilst the AA is trying to drag Dora to the top of the truck, we keep the police amused with our adventures. 'Sorry guys, but no sympathy for you after being on holidays for the entire year!' He jokes.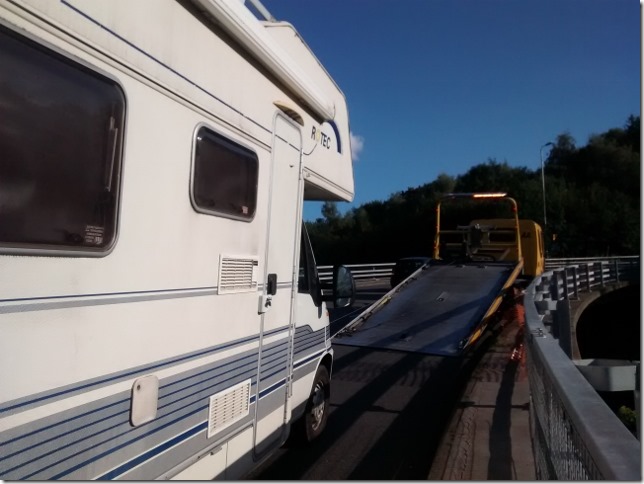 The AA guy has difficulties in moving Dora, as she is stuck in gear. He calls for a bigger truck, which also comes in fifteen minutes, the police cannot believe our luck.
Once Dora is at the top of the truck, we say good-bye to the police, get on the back seat of the truck and are taken somewhere safe to work out what to do next. The AA driver now goes through our insurance policy on an amazing interacting system. He first calls central office to request permission to take Dora back to Sittingbourne. Central office confirms we are entitled to a courtesy car. By the time the AA driver calls the rental car company, the car has already been arranged for us. We just have to confirm the pick up date and time. Incredibly efficient, incredibly effective!
The AA driver takes us to Linda and Mo's place, Gary's parents, which is only fifteen minutes down the road, before taking Dora back to Dave. We are happy to see each other again and, despite last minute snags , be well and healthy. Neither of us can't believe that Dora has only broken down now after driving 60,000 kms around Europe with no major problems.
We cannot thank enough the police, the AA and our insurance company for getting us back home safely and for getting Dora back to the Garage. We have only had to use the insurance a couple of times; in Portugal when a dodgy battery connection was fixed and this time. If you are looking for motorhome insurance we cannot recommend Safeguard enough.
And another recommendation, Tomsett's garage. We feel a little sorry for Dave, as it has not worked out, and no fault to him. He has understood our situation so well and gone well beyond normal good service, opening up his garden and then his home. We really appreciate it and cannot recommend them enough, especially for motorhomes.
GDR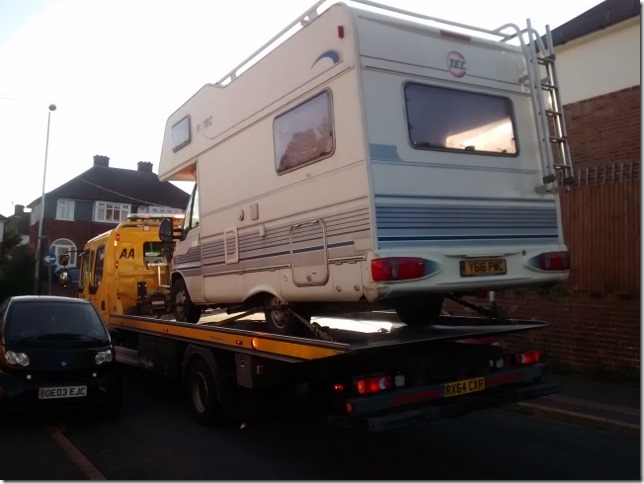 We have a good and long catch up over a nice cup of tea. We go through our last few adventures. Although they have been faithfully following us, we are one month behind on posts being published to the blog.
That night, they treat us with a classic British dish: fish & chips. After dinner, it is their turn to tell us about the places they've been to this year, some of them, the ones we've also been. We are glad to see they are both well and they have a good life.
We are tired of another adventurous day. We go to bed not without thanking Linda and Mo once more for their hospitality.
SM
26/09/2015
Today is Sunday, a lazy but nonetheless special day; we are treating Gary's mum to dinner after we missed her seventieth birthday, which was back in June.
Unfortunately we are going to miss their fiftieth wedding anniversary as well, which is next Tuesday. It looks like we owe them another meal out when we get back! GDR
The place, The George Inn, in Frant has been chosen by Linda.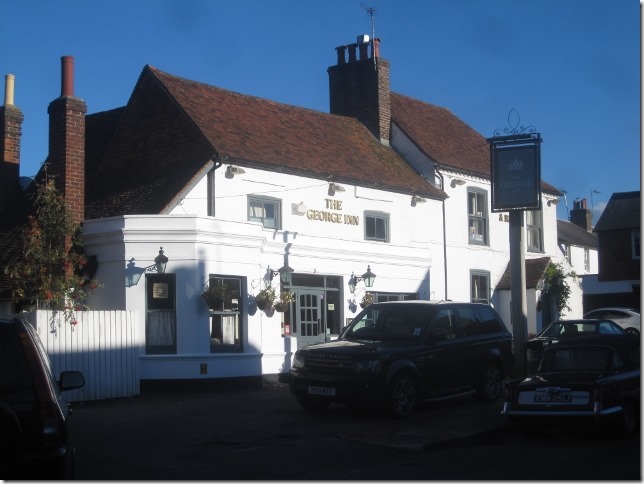 Gary and I don't remember being here before, we are glad we are brought to a new place.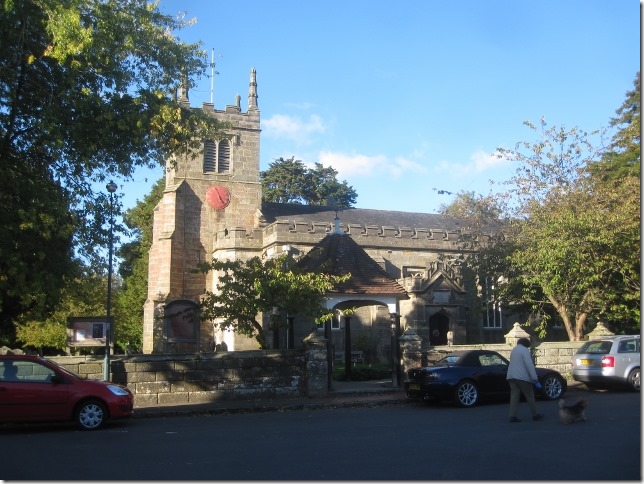 Good food, nice wine, lovely company. We get back home at 18.00, with a full stomach. 'It would be nice to go for a walk, whilst still warm I suggest to Gary' We take Maisy, Linda's dog with us. Although we don't go for long. Maisy seems nervous and keeps looking behind, probably looking for them. She doesn't like being with us strangers.
We go back at 19.00 and have a lazy Sunday: Mo and I stay in the living room watching Countryfile, one of my favourite BBC programs, whilst Gary teaches Linda new tricks to take nice photos.
We have an early night, the next couple of day will be busy, but let's not worry about it now.
SM
27/09/2015